The practice of law is increasingly global in nature. To help you gain familiarity with laws and legal systems outside the U.S. while building intercultural awareness, we offer several international programs in locations around the world. Interacting with lawyers from other countries will also help you establish your global professional network and understand how lawyers in non-U.S. legal systems operate.
Application for Participation in Foreign Study or Foreign Exchange Programs
Exchange Programs
The law school sponsors, in conjunction with the University of Baltimore School of Law, a summer study abroad program in comparative law at the University of Aberdeen, Scotland. The five-week program provides an intimate setting for comparative legal analysis and exposure to the Scottish legal system, which has elements of the English common law and the continental civil law systems. The goal of the program is to provide students with insight into the laws of another country and thus a new perspective on the American legal system.
Through this exchange program, up to two Maryland Carey Law students per year may study in the fall semester at Bucerius Law School and transfer up to 14 credits toward their JD degree. The courses at Bucerius Law School are taught in English and focus on international and comparative business and trade law.
Founded in 2000, Bucerius is the first private law school in Germany. The school is fully accredited under very strict German accreditation standards for its students to sit for the first state bar examination. Bucerius admits 100 German students per year for a four-year required program that has a focus on international business law.
Through this exchange program, up to two Maryland Carey Law students per year may study in the spring semester at the University of Cape Town and transfer up to 14 credits toward their JD degree. Due to the UCT academic calendar (February - June), students may not participate in the exchange during their final semester of law school.

The University of Cape Town (UCT) is South Africa's oldest university, and the Faculty of Law, established in 1859, is the oldest law school in South Africa. UCT faculty provided important support in the drafting of the South Africa Constitution. UCT faculty and students continue to play a key role in South Africa's law reform, policy and governance.
Through this exchange program, up to two Maryland Carey Law students per year may study in the fall semester at the University of Chile (la Facultad de Derecho de la Universidad de Chile) in Santiago, Chile and transfer up to 14 credits toward their JD degree. The University of Chile School of Law is Chile's oldest and most prestigious academic institution, and one of the finest institutions of higher learning in South America. The school has a large clinical law program that includes South America's first environmental law clinic. It also is the home of several research centers including the Center of Environmental Law, which regularly hosts special programs and issues research publications on cutting edge issues of environmental law.
Through this exchange program, up to two Maryland Carey Law students per year may study at the National Chengchi University and transfer up to 12 credits toward their JD degree. Due to the NCCU academic calendar, students may not participate in the exchange during their final semester of law school.
Through this program, exchange students spend two semesters at Comillas Pontifical University. In order to be eligible, students must be at Spanish level B1 and English level B1. The courses at Comillas Pontifical University focus on law, business, and international relations. Students interested in this exchange program must be nominated by the University of Maryland Francis King Carey School of Law. Once students have been nominated, they will receive an electronic application with instructions on how to apply.
International Externships
The program provides students an opportunity to work as externs during the academic year at human rights and civil rights law organizations. Since its inception in 1989, the school has sent nearly sixty student externs to South Africa. Participating students have provided direct legal services to clients, participated in the development of impact litigation, and monitored legislative developments on emerging areas of human rights law. Students are supervised in their field placement by a South African lawyer and by a Maryland Carey Law faculty supervisor. Upon successful completion of the Externship, students receive 11 credits and satisfy the School of Law's experiential learning requirement.
For law students interested in international human rights, Maryland Carey Law offers a full semester externship opportunity for students to work full-time at the Inter-American Court of Human Rights in San José, Costa Rica. Applicants must have good oral and written skills in English and Spanish, as Spanish is the principal language used at the Court. All students who have completed one year of study and are in good standing may apply for the Inter-American Court of Human Rights Externship Program. The Inter-American Court of Human Rights requires a minimum three-month commitment and students will be eligible to receive academic credit for the externship, up to 11 credits for the fall and spring semester and up to 9 credits for the summer session.
The Inter-American Court of Human Rights was established in 1979 to interpret and enforce the American Convention on Human Rights. The Court exercises both adjudicatory and advisory functions. In its adjudicatory capacity, the Court hears and rules on specific, referred cases of human rights violations. In its advisory role, the Court issues opinions on matters of legal interpretation brought by other Organization of American States bodies or member states.
The Law Reform Commission Program provides students an opportunity to work in one of the many Law Reform Commissions (or "Agencies") that exist principally in countries of the Commonwealth. The Commissions are independent, government-funded organizations that analyze and make recommendations to their respective Parliaments on the clarification, updating, or other improvement of the law.
The Law Reform Commissions participating in the Program are principally responsible for selecting their respective student visitors. Students selected for participation in the Program travel to and work with foreign law reform commissions engaged in active public interest law reform projects. The foreign service work generally takes place in the summer. The precise duration and form of the externship, however, are determined in consultation with the specific law reform commissions that have agreed to accept students from Maryland Carey Law.
Students who have successfully completed one year of study and are in good standing are eligible for the Law Reform Commission Program. Students must also have successfully completed the course, Comparative Public Policy & Law Reform, prior to participation in the program.
Other than the credits for successful completion of the Comparative Public Policy course, students do not receive academic credit for participation in the program. Students may work with individual law school professors for independent writing projects on the foundation of the externship experience. With instructor approval, students who participate in the summer Law Reform Commission Program may receive credit for a paper based upon their summer work by registering in the following fall semester for Independent Written Work. Students must also make a presentation on their experience upon their return to the law school at the end of the externship. Participation in the Program does not exempt students from any requirements for the JD degree at the law school.
The high level of international legal and commercial activity in the Baltimore-Washington area as well as proximity to the seat of the national government create a multiplicity of opportunities for students seeking practical experience in the field of international law. Maryland Carey Law has a well-established externship program that allows students to gain academic credit from experiential learning at public and non-profit institutions. Under this program, students may arrange semester-long practical courses of study, for example, with the U.S. Department of State or other national or state agencies, as well as with the numerous international non-governmental organizations (NGOs) in the area.
Students can also find international opportunities through the UMB Center for Global Engagement. The Center for Global Engagement is an academic resource center for University of Maryland, Baltimore faculty and students who are interested in global education opportunities. They promote and support interprofessional global education, identify global themes that can be contextualized locally, and facilitate academic work related to global education.
Academic Program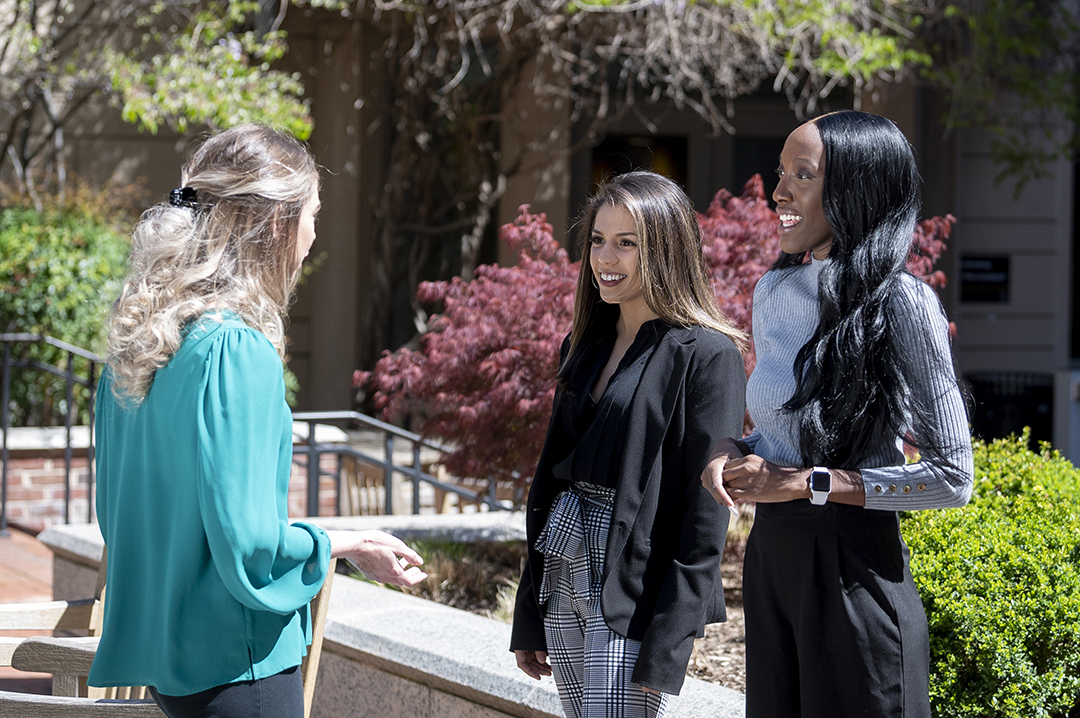 International and Comparative Law Program
Learn more