Nemo enim ipsam voluptatem quia voluptas sit aspernatur aut odit aut fugit, sed quia consequuntur magni dolores eos qui ratione voluptatem sequi nesciunt.
Career Counseling
The Career Development Office (CDO) offers counseling advice and a range of job search resources for alumni who are making career transitions. You may schedule an appointment to speak with a CDO counselor by contacting the Office at careerdv@law.umaryland.edu or by using the appointment prompts on the UMD-Symplicity webpage at https://law-umd-csm.symplicity.com/students/.
Learn more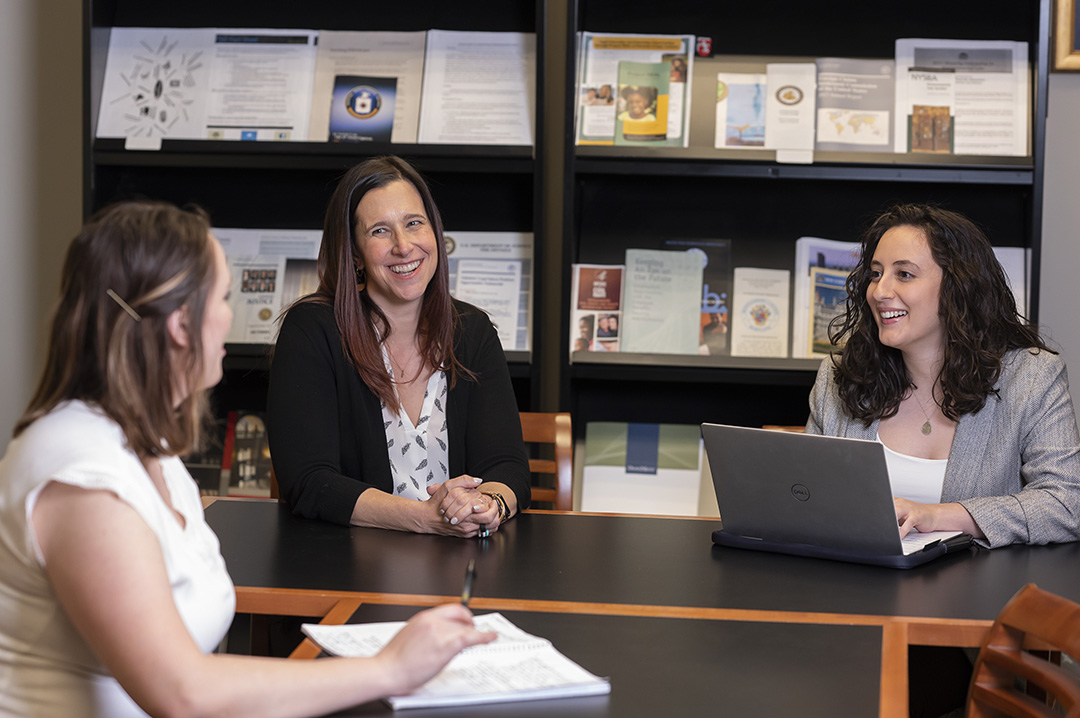 The Alumni Mentor Program connects first-year JD students with alumni who are practicing law and who are using their legal training in other professions. An alumni mentor is someone to whom a student can turn to for "real world" advice about navigating the first year of law school. While a mentor is not expected to be a potential employer, a mentor often may share tips and insights that help a mentee prepare for launching the job search.
Student Participation
The Career Development Office (CDO) coordinates the Alumni Mentor Program and matches mentors and students during the fall semester of the year. Matches are made as closely as practical, based on students' practice area interests and geographic location preferences. First-year JD students who are interested in the program may contact the CDO at careerdv@law.umaryland.edu.
Alumni Participation
Serving as a mentor is a great way to show your support for the success of Maryland Carey Law's students. Participating in the Alumni Mentoring Program requires a year-long commitment, generally starting in October of each year. At the same time, the program allows for great flexibility and mentoring activities can be built around your daily schedule.
Interested? Registration for the 2018-19 Alumni Mentor Program is open from August 1 to October 1. To register during this time, please complete the form found here. If you are interested in supporting our students through mentorship outside of the program registration period, please email our office at careerdv@law.umaryland.edu.
For those taking the Maryland Bar Exam:
How is the test structured?
You can learn all the details about the Maryland bar from the Board of Law Examiners web site.
The first day of the bar exam is the written test, and consists of ten essay questions and a single Multistate Performance Test (MPT) question, which is published by the National Conference of Bar Examiners. The Multistate Bar Exam (MBE) is administered on day two and consists of 200 multiple choice questions. For more information on the MBE, visit The National Conference of Bar Examiners web site.
What subjects are covered on the bar exam?
The first day of the bar examination is the written test, testing on Agency, Business Associations, Commercial Transactions, Constitutional Law, Contracts, Criminal Law and Procedure, Evidence, Family Law, Maryland Civil Procedure, Professional Responsibility, Property, and Torts. The MBE on day two tests on Civil Procedure, Constitutional Law, Contracts, Criminal Law and Procedure, Evidence, Real Property, and Torts. Consider taking bar exam subject courses in preparation for the bar exam and your future legal practice.
When do I have to register for the bar exam?
The filing deadline for the Original Petition (certifying law school graduation) is May 20th for a July examination and December 20th for a February examination. You should read the complete rules before you file. After you take the Bar you must also submit to the State Board of Bar Examiners an official transcript showing that you did, indeed, graduate.
What materials will the Maryland Carey School of Law send for me?
As part of the Character Committee review, the Committee member selected to perform your document review and interview will forward to the Maryland Carey School of Law the "Certification as to Law School Education." This form certifies attendance and specifically asks whether your student record "indicates any instances which may bear negatively on the applicant's moral character and fitness for the practice of law." The Dean of Students will fill out this form and return it to the Committee.
Baltimore Outreach for Student Success
Baltimore Outreach for Student Success (BOSS) strives to establish a deeper connection between the University of Maryland Francis King Carey School of Law and the Baltimore City community by developing long-term relationships between youth in the Baltimore City Teen Court program and students at Maryland Carey Law, who can connect these youths with resources to assist in their success as students and community members. BOSS members serve as mentors and Teen Court facilitators throughout the year, while partnering with a variety of student and community organizations to host panels, workshops, and other engaging events connected to the organization's mission.
Suspension Representation Project
The Suspension Representation Project (SRP) is a student advocacy group that trains law students to represent public school students in suspension hearings and to help safeguard their right to education. The group was formed at Maryland Carey Law in response to data showing that Baltimore City has one of the highest suspension and expulsion rates in the country.
Immigration Law and Policy Association
The Immigration Law and Policy Association (ILPA) leads community outreach initiatives related to immigrant issues, including training students to assist clients with asylum applications; hosting a DACA renewal clinic in conjunction with the Immigration Clinic; hosting area middle school students for an "immigration day" to learn about the complex immigration process; organizing law students to volunteer at local detention centers; and exploring immigration issues through a week-long spring break trip.
Latino/a Law Student Association
Among other volunteer work in the community, members of LLSA serve as translators in Immigration Court.
Students Supporting the Women's Law Center
Students can volunteer at the Women's Law Center of Maryland, which operates a family law and employment law hotline, represents victims of domestic violence, and seeks protective orders for immigrant women. The Women's Law Center also advocates by writing or joining amicus briefs on issues furthering its mission, and lobbying in Annapolis. In addition, students can volunteer at the House of Ruth, which provides victims of domestic violence with food, shelter, counseling, legal and other services.
Military Law and Veterans Society
Members of the Military Law and Veterans Society (MLVS) volunteer with the Homeless Persons Representation Project (HPRP), assisting attorneys in the Veterans Clinic and the Expungement Clinic. Other pro bono activities include the Day of Service for Maryland's Veterans in conjunction with the Maryland State Bar Association Leadership Academy and work on other projects intended to assist veterans with legal issues.
In addition to career counseling, the CDO offers alumni access to its online Symplicity Job Bank to search for employment opportunities. To obtain a Symplicity password, please e-mail the CDO and include your full name, graduation year, current contact information including your updated e-mail address, telephone number and mailing address. Once your alumni status is verified, you will receive an e-mail containing a user name (your e-mail address) and a password.
The University of Maryland Francis King Carey School of Law does not discriminate on the basis of race, color, religion, national origin or ancestry, sex, sexual orientation, gender identity or expression, physical or mental disability, marital status, protected veteran's status, or age. The University is required by federal regulatory agencies to supply admissions and enrollment information by racial, ethnic and gender categories. Provision of the information is voluntary and will not be used to determine eligibility for admission.