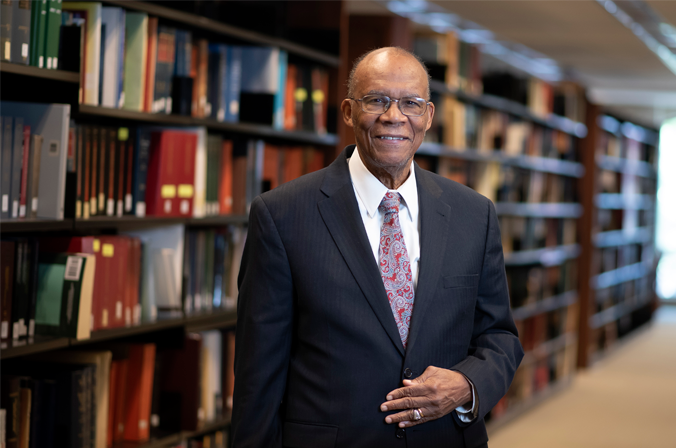 Activities Delayed Until Sunday
Late Friday night, Governor Moore declared a state of emergency, and has asked that residents stay off the roads. While we have been planning and eagerly anticipating this reunion for months, with the governor's guidance and the safety of this community in mind, we ask that everyone please remain safe at home.
Please make note of the updated schedule below for the remainder of our reunion activities:
Tomorrow, Sunday, September 24, Black Law Alumni Reunion attendees are invited to join us for the following modified schedule of activities:
Sunday, September 24, 2023
11:30 a.m. – Down Memory Lane | Krongard Boardroom
* Note: Please use the 500 W. Baltimore Street entrance if you plan to join for this pre-Luncheon activity
12:30 p.m. – Luncheon | Westminster Hall
* Note: Please use the Westminster Hall entrance at 519 W. Fayette Street if you are only attending the Luncheon
2:00 p.m. – Group Photo | Westminster Hall at the conclusion of the Luncheon
Please Note: The Ravens will be playing a home game tomorrow at 1 p.m. With the continued rain and heavier than normal traffic conditions, please drive safely.
About this event
Register now for the 5th Black Law Alumni Reunion: Friday, September 22 and Saturday, September 23, 2023! We look forward to a weekend full of reminiscing with friends and reconnecting with the law school.
Join Prof. Larry S. Gibson and fellow alumni for a weekend filled with friends, fond memories, great food, dancing, and vibrant intellectual discussions. Like the success of the previous reunions, this promises to be an exciting and enjoyable weekend. We look forward to seeing you at the 5th Black Law Alumni Reunion.
For registration questions, please contact alumni@law.umaryland.edu or call 410.706.5458.
Tickets
The ticket price includes admission to all Black Law Alumni Reunion events. Schedule and locations subject to change.
Ticket Prices
- Alumni Ticket: $250
- Recent Alumni Ticket (2019-2023): $150
- Guest Ticket: $90
Refund Policy: Please note that refund requests will only be accepted through September 12, 2023.
Schedule of Events
Dean's Welcome Reception
6:00 - 7:30 p.m. | Atrium
Class Gatherings
7:30 - 9:00 p.m. | Various Locations
Breakfast with the Black Law Students Association (BLSA)
9:00 - 10:30 a.m. | Atrium
Alumni Debate
10:30 a.m. - 11:30 p.m. | Room 107
Luncheon: Honoring Our Legacy
12:00 - 2:00 p.m. | Westminster Hall
Group Photo
2:00 - 2:30 p.m. | Westminster Hall
Down Memory Lane
2:30 - 4:00 p.m. | Krongard Boardroom
Cabaret
4:00 - 7:00 p.m. | Westminster Hall
Additional Information
The Hon. Jan M. Alexander '85
James R. Benjamin, Jr. '01
Marc S. Broady '16
Joanne Saunders Brooks '85
Beverly B. Carter '83
Toi Y. Carter '83
The Hon. Sylvester B. Cox, Jr. '83
Angela J. Davis '02
Emerson L. Dorsey, Jr. '79
James H. Fields '91
Patricia L. Gatling '82
Cornelia Bright Gordon '80
Quinton M. Herbert '03
Thomas H. Herndon, Jr. '02
The Hon. Marcella A. Holland '83
Glendora C. Hughes '78
Wm. Carl Isler, II '04
Franklin M. Lee '80
Dawn S. Lettman '85
The Hon. Zakia Mahasa '86
Michelle Wilson McGlawn '04
Ferne L. Mosley '91
A. Tonya Odom '87
Midgett S. Parker, Jr. '85
The Hon. Rhonda Pindell-Charles '79
Carolyn Z. Powers-Brown '84
Kimberly W. Ross '93
Rebecca Tabb Simmons '87
The Hon. Michael S. Studdard '94
The Hon. Charles E. Sydnor, III '00
Tony W. Torain, II '11
Craig A. Thompson '95
Brandon E. Thornton '02
Sakkara Y. Turpin '14
Daniel Woubishet '02
The Hon. David W. Young '77
Student Committee Members
Asilah Abdur-Rahman
LaQuan Bates
Renee Dash
Sara Devaraj
Esi Fynn-Obeng
Kennedy Hagens
Jenelle Herbert
Ahmed Jackson
Halla McDermon
Karah Palmer
Stephanie Raley
Inaya Soudan
Chantel Williams
Baltimore Marriott Inner Harbor at Camden Yards
110 S Eutaw St, Baltimore, MD 21201
Reservations: 410-962-0202
Hilton Baltimore Inner Harbor
401 W. Pratt St. Baltimore, MD 21201
Reservations: 410-573-8700
Hotel Indigo Baltimore Downtown
24 W. Franklin Street, Baltimore, MD 21201
Reservations: 410-625-6200
Four Seasons Hotel Baltimore
200 International Drive, Baltimore, MD 21202
Reservations: 410-576-5800
Baltimore Marriott Waterfront Hotel
700 Aliceanna St, Baltimore, MD 21201
Reservations: 410-385-3000
Hotel Revival Baltimore
101 West Monument Street, Baltimore MD 21201
Reservations: 410-727-7101
Kimpton Hotel Monaco Baltimore
2 N. Charles St., Baltimore, MD 21201
Reservations: 443-692-6170
Lord Baltimore Hotel
20 W. Baltimore St. Baltimore, MD 21201
Reservations: 410-539-8400
Renaissance Baltimore Harborplace Hotel
202 E. Pratt St. Baltimore, MD 21201
Reservations: 410-547-1200
Sagamore Pendry Baltimore
1715 Thames Street, Baltimore, MD 21231
Reservations: 443-552-1400