Meet Our Alumni: Andrea Fellows '19 Master of Science in Law, Health Care Law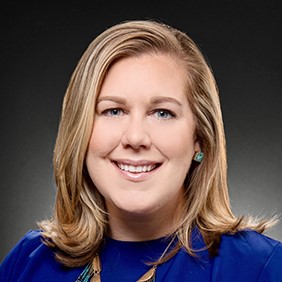 Andrea Fellows (MSL '19) laughs at the over-used description "dream job," but doesn't let that stop her from applying the term to her new supervisory position in public affairs at the U.S. Centers for Disease Control and Prevention (CDC) in Atlanta.
Losing her father to cancer, says the Missouri native, "gave me an eye-opening look into the health care field and helped me discover that was my passion in life." After five years in communications at the U.S. Department of Homeland Security, Fellows felt it was time to align her career with that passion. The CDC, she says, "was my dream agency."
She credits Maryland Carey Law's MS in Law in Health Care Law with giving her the specialized knowledge to help make her dreams come true, calling the Health Care Law specialty, "absolutely incredible."
Armed with plenty of experience in communications and public affairs, Fellows says she had been missing a health aspect to her background that would make her the right fit for the CDC. "The MS in Law program gave me a competitive edge in my job application," she says, which revealed itself when her future employer held the position for her while she finished the master's coursework in spring 2019.
It also didn't hurt that Fellows conducted in-depth research on CDC's policies and regulations for her capstone project, supervised by Kerri Lowrey, deputy director of the Network for Public Health Law – Eastern Region at Maryland Carey Law. The resulting paper explores quarantine law and how hospitals and medical professionals balance individual rights and public health necessities—context that informs her work crafting messaging for CDC's senior leadership.
Not only did the credential contribute to Fellows' ability to land the position but also to hit the ground running when she started work because of the background she gained in both focused public health and general law. "I received an education that allows me to understand the inner workings of government and the legal jargon specific to public health," she says. "I've been able to take all that knowledge from the classroom and put it into practice."
Not one to sugarcoat reality, Fellows admits that pursuing the MS in Law while working a full-time job at Homeland Security was challenging, but says supportive professors and classmates eased the way.
Everyone in her small, close cohort contributed to each other's success, she recalls, whether it meant sharing notes because a classmate couldn't get a babysitter or convening for a study group. Meanwhile, the program's distinguished professors, "supported us 100%, always making themselves available whenever we needed."
Those professors, marvels Fellows, include "people who have literally shaped and formed public health law as we know it." Professors like Karen Rothenberg, founding director of the Law and Public Health program at Maryland Carey Law, whom Fellows respectfully calls the "godmother of public health law." A leading national expert in health law, Rothenberg has served as a special adviser and visiting scholar at the National Institutes of Health, and testified before federal and state legislatures.
In June 2019, with diploma in hand, Fellows packed up her life in Washington, D.C. (and her dog Lola) for a new start in Atlanta. For some, such a big move might be overwhelming. But not for Fellows, who maintains she's invigorated by change—especially when it involves transitioning into her dream job.