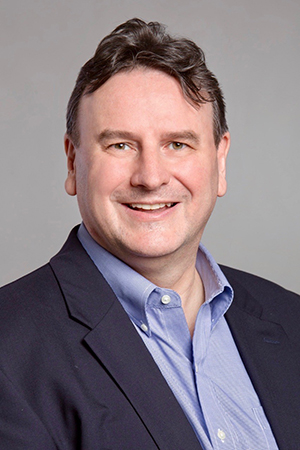 Simon Hartley (MSL '17) is an innovator, forging security solutions in a world rapidly moving through the evolving steps of digital transformation. It's a world, he argues, where innovation is increasingly entangled with legal and regulatory issues.
Hartley should know. He was co-founder of the Northern Virginia-based startup RunSafe Security, consulting on cybersecurity for Department of Defense vehicles, drones, and medical devices. He was also vice president at startup Kaprica Security (now part of Samsung), advising Apple and Samsung on hardening their mobile devices for government use. Currently, Hartley works with government customers at CIS Mobile with its altOS mobile security platform.
With each innovation—say a GPS tracker built into a vehicle or a body camera on a police officer—a cluster of intellectual property, privacy, and safety considerations emerge, says Hartley. "I have been in the technology business for a long time. At the start it didn't touch on the law too much, but these days, the business of innovation means that I work with legal teams all the time."
That's why having the opportunity to pursue the Master of Science in Law, specializing in cybersecurity, was a big draw for the entrepreneur. "The class content helped me right out of the gate," says Hartley, "To get legal basics and then specialized knowledge in cybersecurity and privacy, was amazingly valuable."
Plus, the work Hartley did in the program opened doors of opportunity. For his capstone project, the startup leader dug into issues of cybersecurity and privacy in the automotive industry, exploring the legal implications of increasing connectivity in vehicles, and addressing the need for regulation. Having experts like Markus Rauschecker, cybersecurity program director at the University of Maryland Center for Health and Homeland Security, guide him through the writing, says Hartley, helped give credibility to the finished product, which caught the attention of the Society of Automotive Engineers (SAE), the standards developer for automotive, aerospace, and commercial vehicles. Not only was Hartley invited to join the international organization and sit on its cybersecurity committee, but he was also asked to present the paper at an SAE conference and share his insights on the Hill with senate staffers working on cybersecurity legislation. Additionally, his paper was published as a chapter titled, "Law, Policy, Cybersecurity, and Data Privacy Issues" in SAE's 2019 Cybersecurity of Commercial Vehicles, one of the first key books on the topic.
With a job that ate up 60 to 80 hours of his week, it's hard to imagine the startup leader would have time to take on a graduate program, but Hartley says he found the workload manageable. "The format of the program was great—spread out over two years and broken into courses that were easy to attack," he says. "It wouldn't have been possible if it had been a full-time program." And, says Hartley, he mindfully chose the MS in Law over a JD because the master's courses, specifically targeting cybersecurity, prepared him in the area of law most relevant to his business.
Pleased with the program's quality, Hartley says he has been recommending the Maryland Carey Law MS in Law to colleagues, two of whom have taken his advice and now hold the degree, too.
"I tell people," says Hartley, that it can be a ticket to a really valuable educational experience."
And, he adds, referencing Roald Dahl's beloved Charlie and the Chocolate Factory, "If you find the golden ticket, you take it."