The Erin Levitas Initiative for Sexual Assault Prevention uses a restorative justice framework to engage middle school students in educational activities designed to help them identify, question, and reject the destructive ideas that give rise to sexual violence.
Program Goals
Prevent peer-to-peer sexual harm among youth by addressing attitudes and behaviors that facilitate sexual assault
Increase parent/caregiver understanding of sexual harassment and assault
Improve the ability of school staff to recognize and respond appropriately to sexual harassment and sexual assault
Address incidents of sexual harm when they occur in schools
We employ a public health approach to sexual assault prevention. We engage in primary prevention through the use of our E.R.I.N. (Empathy, Respect, Integrity, No More Sexual Assault) Talk curriculum. The E.R.I.N. Talk curriculum is delivered using restorative dialogue circles facilitated by trained law and social work students. The curriculum covers verbal and non-verbal communication skills, safe use of social media and technology, positive gender norms, healthy boundaries, and consent and bystander intervention. Starting in spring 2019, the E.R.I.N. Talk curriculum began piloting in City Springs Elementary/Middle School, a Baltimore City public school.
Hear from Erin's family and Maryland Carey Law about the meaning of her legacy.
About Erin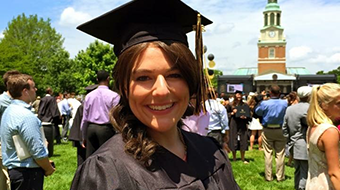 Erin Levitas was poised to join the University of Maryland Francis King Carey School of Law community and bring her many talents to the legal profession. She hoped her education at the law school would enable her to pursue her passion for education and women's rights by working to help all women feel welcome and thrive.
A personal experience with sexual assault made Erin passionate about this cause. After her attack, she explored what programs existed to provide support and education. She was shocked at the epidemic occurring in schools and communities across the country. Many individuals had similar experiences, but did not have the outlet or the skills to process and heal from their assault.
Although Erin left us before she could pursue her law school degree to help others, we aim to create a new and ambitious program focused primarily on prevention and support to empower survivors of sexual assault.
To support this initiative, you can make a gift online through our Levitas giving page. For more information on the Erin Levitas Foundation, please visit www.erinlevitas.org and follow the Erin Levitas Foundation on Facebook and Instagram.
Information for Students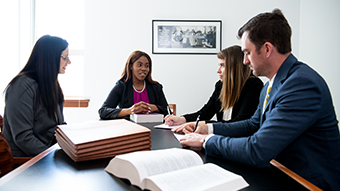 Students enrolled in the Maryland Carey Law JD program may participate in the Erin Levitas Initiative in partial satisfaction of the experiential course requirement for graduation, or to satisfy one of the specialized ADR course requirement for the Alternative Dispute Resolution Track.
To participate in the Erin Levitas Initiative, students should register for the Restorative Justice and Sexual Assault Theory and Practice Seminar. Students from the UMB School of Social Work may participate by special arrangement.
In the seminar, students are trained in facilitation of restorative dialogue circles, and in the content of the E.R.I.N. Talk curriculum. Once trained, students deliver the E.R.I.N. Talk curriculum to middle school students over the course of seven weeks. In the seminar, students are also trained in restorative justice conferencing; if and when possible students may have the opportunity to participate in conferences.