Alumni Profile: Khushi Desai
Like many aspiring environmental lawyers, Khushi Desai ('07) dreamed of a career in public interest litigation, but wondered how she could break into this ultra-competitive field. She then developed a plan, stuck to it, and did not give up on her goal. Khushi's hard work paid off this summer when Earthjustice, the nation's premier public interest environmental litigators, hired her as an Associate Attorney.
While in college at the University of Maryland College Park, Khushi developed an interest in environmental law and graduated with a degree in Environmental Science and Policy. As part of her undergraduate studies she interned at the Environmental Law Institute and even took Professor Percival's Comparative Environmental Law class, which then was jointly taught with Professor Miranda Schreurs from the Department of Government and Politics. This helped convince Khushi to enroll in the University of Maryland School of Law to obtain her certificate of concentration in environmental law.
During her law school studies, Khushi took advantage of every opportunity to obtain clinical experience. For summer work she sought out a law firm that pursued toxic tort litigation – for an Erin Brockovich type of experience. Khushi's research led her to Mason LLP in Washington, D.C., a small plaintiffs' law firm that specializes in consumer protection and toxic tort litigation. She cold-called the firm to let them know of her interest, interviewed, and obtained a summer associate position. Khushi later accepted the firm's offer of a full-time associate position after her law school graduation in 2007.
Khushi spent the next three years litigating a variety of matters at Mason LLP – from mortgage fraud to global warming, and unlawful tax assessments to the recent Deepwater Horizon oil spill. "These wide-ranging experiences allowed me to learn from many exceptional attorneys with various backgrounds and interests, and develop a strong, diverse foundation in complex civil litigation that gave me the confidence to make my move into the non-profit sector," explained Khushi.
Though much of Khushi's work did not involve environmental law, she continued to remain involved with environmental issues. Khushi had a long-standing interest in the 1984 Bhopal disaster, a subject of her undergraduate honors thesis. Last December, she co-hosted a fundraiser to commemorate the 25th anniversary of the disaster and raise money for the International Campaign for Justice in Bhopal and the Bhopal Medical Appeal. Shortly after the fundraiser, Khushi—with the help of her law firm-- was able to assist the team of litigators that represents Bhopal residents in an ongoing legal battle in U.S. federal court.
Khushi's hard work as a litigator and commitment to environmental advocacy gave her the opportunity to transition to environmental litigation at an early stage of her career. "I'm incredibly excited to have the opportunity to be part of Earthjustice's associate attorney program. This is precisely the type of work I've wanted to do for as long as I can remember, so I am happy with the decisions I made both before and after law school," said Khushi. As for advice to current law students, Khushi suggests "pursuing opportunities that help develop your skills as a lawyer while also staying connected to your own specific practice interests."
Alumni Profile: Joanna Goger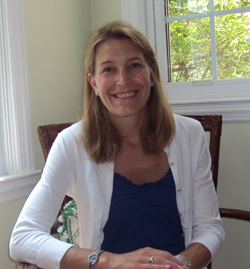 Joanna Goger ('00) interned at the Environmental Crimes Unit at the United States Attorney's Office while enrolled in the law school's Environmental Law Clinic. This experience provided Joanna one of her most memorable law school experiences. Joanna believes the Clinic provides unique opportunities for students to take "an active role in the protection of our local resource, the Chesapeake Bay."
After graduation, Joanna worked as a law clerk to The Honorable Frederic N. Smalkin, U.S. District Court for the District of Maryland and then as a trial attorney for the U.S. Department of Justice in the Environmental and Natural Resources Division. Joanna went on to work as an Adjunct Professor at the law school and Chief Policy Analyst at the Center for Progressive Reform. Joanna is now a lecturer at the University of Maryland College Park where she teaches Introduction to Environmental Law and The Science, Ethics, and Law of Water.
As a lecturer, Joanna continues to focus on environmental issues, and she views global climate change and fresh water availability as two of the most pressing issues facing environmental lawyers today. "Professor Steinzor's work at the interface of law and science and Professor Percival's work on the globalization of environmental law have already contributed to work on [global climate change] and other important environmental issues of the day, such as the regulation of mercury."
Joanna credits the law school for providing her the skills and opportunity to pursue her varied interests: "Maryland offers a tremendous breadth of courses in many subject areas, and its specialty programs, such as the Environmental Law Program, really allow for students to focus their studies. The proximity to Washington, D.C., Annapolis and the Chesapeake Bay also provide for numerous job opportunities after graduation."
Alumni Profile: Mindy Goldstein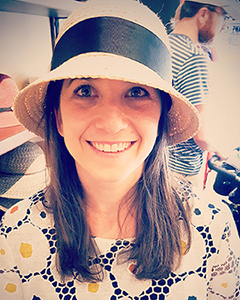 Mindy Goldstein ('06) Clinical Professor Mindy Goldstein is director of the Turner Environmental Law Clinic and director of the Environmental and Natural Resources Law Program at Emory Law School. She has represented clients in complex environmental litigation before judicial and administrative tribunals; in legislative and policy matters at the local, state, and federal levels; and in land use and other transactions. Her work focuses on matters related to sustainable energy and climate change, land use and conservation, sustainable agriculture and urban farming, protection of natural resources, and access to information. She has successfully litigated cases before the D.C. Circuit Court of Appeals and various district courts, and she has testified before several federal agencies.
Professor Goldstein graduated with honors from the University of North Carolina, earning a BS in biology with a minor in chemistry. She received her JD from the Carey School of Law, where she graduated magna cum laude with a concentration in environmental law. After law school, Professor Goldstein was an associate in the law firm of Kilpatrick Stockton (now Kilpatrick Townsend & Stockton), where she represented clients in commercial real estate transactions. Her work often concerned environmental liability arising from the purchase and development of land.
At Emory, Professor Goldstein has represented clients in investigating and challenging violations of the Administrative Procedure Act, Agricultural Act, Atomic Energy Act, Clean Water Act, Endangered Species Act, Food Safety Modernization Act, Freedom of Information Act, Georgia Water Quality Control Act, National Environmental Policy Act, National Wildlife Refuge System Administration Act, and Nuclear Waste Policy Act. In addition to this work, Professor Goldstein has given lectures and presentations on a wide variety of environmental issues around the country. She sits on the board of several environmental nonprofit organizations, including Global Growers. She is the co-chair of the Georgia Public Interest Environmental Law Coalition and a member of the Institute for Georgia Environmental Leadership class of 2015. She is the recipient of the 2016 Ogden Doremus Award for Excellence in Environmental Law and the inaugural Emory University Sustainability Faculty Fellow.
Professor Goldstein teaches classes in Administrative Law, Environmental Advocacy, Environmental Law, and the Turner Environmental Law Clinic.
Alumni Profile: Abigail Ross Hopper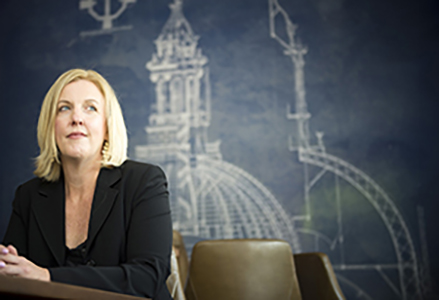 Abigail Ross Hopper ('99) Abigail Ross Hopper is the President and CEO of the Solar Energy Industries Association (SEIA), the national trade organization for America's solar energy industries. She oversees all of SEIA's activities, including government affairs, research, communications, and industry leadership, and is focused on creating a marketplace where solar will constitute a significant percentage of America's energy generation.
Before joining SEIA, Abby was the director of the Department of Interior's Bureau of Ocean Energy Management, where she led the agency that oversaw the leasing and development of all offshore energy, from oil and natural gas to offshore wind. She served formerly as the Director of the Maryland Energy Administration (MEA), serving as acting director beginning in 2012, and then as Director starting in June 2013. She also served concurrently as Energy Advisor to Maryland Gov. Martin O'Malley since 2010. In those roles, she had significant engagement with the state's electric distribution utilities on matters ranging from resiliency and reliability of the grid to multiple mergers of the state's utilities.
Abigail previously spent over two years as Deputy General Counsel with the Maryland Public Service Commission. Before embarking on a career in public service, she spent nine years in private practice. Abigail graduated Cum Lade from the Francis King Carey School of Law, where she was Editor in Chief of the Maryland Law Review, and earned a Bachelor of Arts Degree from Dartmouth College. She is the very proud mom of three children and loves to read, run, do hot yoga and lay on the beach in her (not so free) time.
Alumni Profile: Brieanah Schwartz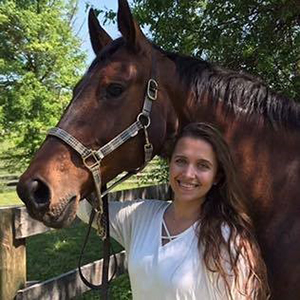 Brieanah Schwartz ('17) Brieanah's search for her dream job started with her passion: horses. When she was young, she promised her parents she would have a career in horses. "I knew that whatever I ended up doing with my life, that horses would be a part of it. The path to my dream job with American Wild Horse Campaign started in college. On our drive to Sweet Briar College, my mom found Cumberland Island, off the coast of Georgia and filled with wild horses, as a stop. Naturally I made several more trips there over the years, followed a specific band of wild horses and eventually self-published a book on their history and their impacts on the island – the start of my advocacy for wild horses." After college, Brieanah decided to go to the University of Maryland Francis King Carey School of Law to pursue her interest in environmental and animal law. "I was fortunate to travel with the school and the most meaningful trip was presenting a paper at the IUCN Academy of Environmental Law Colloquium in Oslo, Norway. I presented my paper on how animals and the environment could have standing to sue under U.S. law. While in school, I also gained a lot of experience doing internships and externships as I wanted to make sure I had the skills and professional contacts to achieve my career goals." Brieanah termed this strategy the "experiential J.D."
When Brieanah graduated, she found that the animal and environmental law world is a small one and the job market in D.C. even smaller. However, it was not long before she stumbled upon an article about a D.C. firm, Meyer, Glitzenstein & Eubanks LLP (MGE), that was litigating wild horse issues. She researched the firm and discovered that they were hiring law clerks and got a clerk position. Brieanah spent a little over six months learning from some of the best in the business. Most importantly, she found mentors, teachers, and friends at this firm. In her last week at MGE, one of the partners took me to lunch to talk about my future. We discussed my passion for horses and she offered to set up a call with the executive director of the American Wild Horse Campaign (AWHC) so Brieanah could learn more about their work. "My expectations were nothing more, but by the end of the call, I had a job offer! I had no words, all I could say was "This is literally my dream job."
There were times through law school and after that Brieanah thought she might give up on her dream career. Brieanah relied on old professors, colleagues and friends for support and to help guide her as well as a resume filled with meaningful professional experience throughout her law school externships and internships. Working for an organization like AWHC was her long-term career goal. "But now, sitting here as the Government Relations and Policy Counsel, I still cannot believe I made my dream come true. I still have a lot to learn, but I am supported by an amazing organization, with amazing people and caring members, and will continue to be mentored by MGE. I could not have planned this better if I tried. My dream job came because I did not give up on my passion, developed professional contacts interested in my success, and was ready to seize a unique opportunity."