Alumni Profile: Kristin Buterbaugh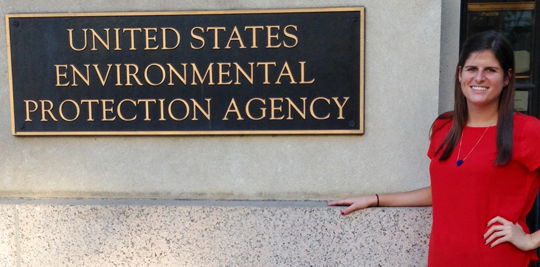 Kristin Terry ('15) Kristin is an Attorney Adviser in the Water Enforcement Division of the Office of Civil Enforcement in the U.S. Environmental Protection Agency's Office of Enforcement and Compliance Assurance. She works in the Industrial Enforcement Branch and focuses mainly on judicial enforcement of the Clean Water Act, bringing industrial polluters into compliance.
"My goal throughout law school was to get a job at the EPA. The environmental law curriculum at University of Maryland and the experiences I had at internships and externships during law school helped prepare me for the challenging work that I do now in my dream job."
During law school, Kristin interned at the American Wind Energy Association, the Maryland Department of the Environment, the Chesapeake Legal Alliance, and at the EPA in its Criminal Enforcement Division and Air Enforcement Division. She also participated in various activities on campus, including the Journal of Health Care Law and Policy, as well as competing in the Pace National Environmental Moot Court Competition.
Alumni Profile: Jon Cardin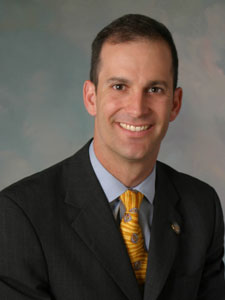 Jon S. Cardin ('01) is currently serving his second term representing the 11th District of Northwest Baltimore County in the Maryland House of Delegates. Del. Cardin supports legislation designed to achieve quality education, public safety, environmental protection, economic development, and health care.
Del. Cardin has worked to revitalize the Chesapeake Bay, including support of legislation that requires counties to institute a fees schedule for impervious surface development to help mitigate storm water run-off into the Bay. Jon strives to "work on a regional level to bring the states within the Chesapeake watershed to an understanding of its vital importance and critical status." During recent legislative sessions, Del. Cardin defended Maryland's Environmental Law Clinic when its funding was threatened due to a recent lawsuit the Clinic filed against a large Maryland business. Del. Cardin was also a lead sponsor on legislation prohibiting Baltimore County from opting out of the state's gray water regulations. Please see what Del. Cardin is currently doing for Maryland at http://joncardin.com/.
Del. Cardin believes the University of Maryland School of Law "provides a well-rounded education with assured success for its students." The law school is unique because it "is at the epicenter of so many issues and opportunities" and provides "environmental expertise, health policy focus, proximity to DC, and fantastic faculty and adjuncts" for its students.
Alumni Profile: Apple Chapman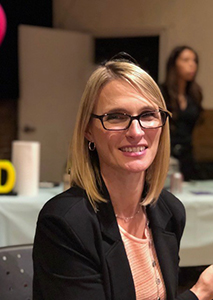 Apple Chapman ('99) While in college studying environmental science, Apple developed a strong interest in environmental issues and environmental law. She selected the University of Maryland because of its well renowned environmental law program and proximity to Washington, DC. During her second year of law school, Apple was selected for the U.S. EPA Office of General Counsel (OGC) summer honors program and coming out of that program, she was offered a permanent position with the EPA's Office of General Counsel. Apple worked for OGC for 9 years and then transferred to the Office of Enforcement Compliance Assurance, Air Enforcement Division. While in law school, Apple also participated in the Environmental Law Clinic. She describes her experience with the clinic as her most memorable law school experience. "The clinic introduced me to the real-world impact that environmental law and advocacy can have on helping communities. I knew that I wanted use my law degree as a force for good."
Apple is currently the Deputy Director of the Air Enforcement Division (AED) where she helps to manage and implement the EPA's Clean Air Act national enforcement and compliance program. "The work that we do in AED has a direct and positive impact on people's lives. Every day is meaningful and challenging. We get to work on the largest, most complex air enforcement cases that have the most significant impact human health and the environment."
Alumni Profile: Lisa Satterfield Daly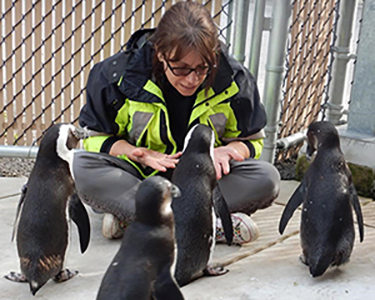 Lisa Satterfield Daly ('93) During law school, Lisa was the vice president and then the president of Maryland Environmental Law Society. In the early 1990's there was not yet a formal environmental law concentration available at the Law School, but Lisa took every environmental law class available. In addition to her classes, Lisa arranged for an externship at NOAA, where she worked on marine sanctuary regulations. In 1992, while in law school, Lisa sued the EPA to force the agency to comply with the Clean Air Act by issuing past due regulations to phase out CFCs. During law school, Lisa also worked for the Center for Global Change at the University of Maryland on global warming issues.
After graduating in 1993, Lisa worked at a law firm, but was unhappy with the focus on billable hours and disappointed that she did not have the opportunity to focus on environmental issues. She decided law firm work was not where she wanted to spend her career. In 1995, Lisa accepted a nonpartisan appointment as an attorney at the Office of the Legislative Counsel of the United States House of Representatives. She has worked in that office on Capitol Hill for almost 25 years, where she advises and assists Congressional Committees and Members of Congress with analyzing, drafting, introducing, amending, and other aspects involved with Federal legislation. Her areas of jurisdiction include environmental issues, natural resource use, water rights, water contracts, and other issues related to water law, all aspects of Native American (Indian) and U.S. territories law, and appropriations law.
Lisa has always been an active volunteer in addition to her law career. As a volunteer EMT with Montgomery County, Maryland, she saw dumpsters of old fire hose taken to landfills and her environmental training led her to get clearance to donate the hose to the National Zoo for use as animal enrichment. Soon after, she founded a nonprofit called Hose2Habitat. Intended as a small regional organization, Hose2Habitat quickly became international in scope with corporate, Federal, and local partnerships. Lisa works with hundreds of zoos, sanctuaries, and wildlife rehabilitation centers, around the world, in addition to corporations including Disney, SeaWorld and Busch Gardens. In February of 2019, Hose2Habitat entered into a national partnership agreement with the U.S. Forest Service through which many tons of fire hose and other materials will be diverted from landfills and incinerators and used around the world for animal enrichment.
Lisa plans to retire from her job with the United States House of Representatives in a few years to dedicate more time to Hose2Habitat and other projects which incorporate her legal training with her passion for the environment and endangered species.
Alumni Profile: Ami Grace-Tardy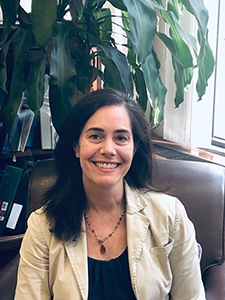 Ami Grace-Tardy ('05) Ami currently serves as the Deputy Assistant General Counsel for Energy Efficiency at the Office of the General Counsel at the U.S. Department of Energy (DOE) where she works with a team of attorneys to develop energy efficiency regulations for the private and public sector and provides client counseling on a wide variety of energy and administrative law legal matters for the Department's Office of Energy Efficiency and Renewable Energy. Ami has been working at DOE for nine years, first as an attorney-advisor and now as a supervisory attorney-advisor.
Ami's legal career began at Maryland where Ami earned the environmental law certificate from the Environmental Law Program, served as a research assistant for Professor Percival, worked with Professor Steinzor to develop an article for the Environmental Law Institute, and participated in the environmental law clinic. She thoroughly enjoyed the real-world experiences she had in the clinic and believes the clinic helped her prepare for the level of research and inter-personal skills needed in the legal profession. During law school, Ami participated in moot court, interned for the Civil Rights Division of the U.S. Department of Justice, and interned for Hon. Marvin Garbis in the U.S. District Court for the District of Maryland.
After law school, Ami worked as an associate at the environmental law firm of Beveridge & Diamond, P.C. While at Beveridge and Diamond, Ami provided regulatory counseling to a wide variety of clients on CWA CERCLA, FIFRA, and FFDCA matters. She also represented a low-income D.C. resident and Hispanic families in two pro bono lawsuits involving fair housing and civil rights violations.
Alumni Profile: Erica Zilioli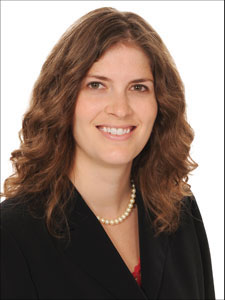 Erica Zilioli ('06) is a Trial Attorney with the Environment & Natural Resources Division of the Department of Justice. As a member of the Environmental Defense Section, she defends the United States in litigation arising under federal environmental statutes.
Prior to joining the Department of Justice, Erica was an Associate at Beveridge & Diamond, P.C. in Washington, D.C. Erica represented clients in litigation and arbitrations arising under a variety of environmental laws. She also counseled clients on a variety of issues relating to product regulation, such as compliance with the Consumer Product Safety Improvement Act of 2008 and similar laws worldwide, as well as regulatory developments in the expanding area of product safety. "It is extremely rewarding to be able to help clients comply with environmental laws and to know that the clients listen to and heed my advice."
Erica believes her experience clerking for the Honorable Richard D. Bennett of the U.S. District Court for the District of Maryland after law school prepared her to be a better litigator.
"The most important skill I learned in law school was to think critically, but the most important advice I got was that the key to being a good environmental lawyer is to first and foremost be an outstanding lawyer." Erica believes that Maryland's Environmental Law Program's "strong curriculum," proximity to Washington D.C. ("the environmental law center of the country"), and commitment "to helping students find internships and jobs both during and after law school" provide students a wealth of opportunity.
Erica advises students "to get involved in as many projects and activities outside the classroom as possible … grades are very important, but so are experiences interning, representing clients through clinic, and simply getting involved in the legal community."
Alumni Profile: Lori Schectel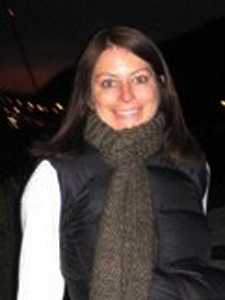 Lori Schetctel ('99) currently resides in the San Francisco Bay Area and works at Central Contra Costa Sanitary District in their Regulatory Compliance Division where she directs preventative environmental compliance efforts as well as develops training programs and protocols to ensure compliance with environmental monitoring, best management practices, reporting and records management requirements. Before that, Lori worked for the San Francisco Public Utilities Commission (SFPUC) first as an Environmental Regulatory Specialist and later as the Environmental Compliance Planner for the Natural Resources Division of the Water Enterprise. As an SFPUC Environmental Regulatory Specialist, Lori worked on numerous development-related environmental issues including managing a watershed restoration project, coordinating SFPUC regulatory compliance efforts, and assisting in the development of a habitat conservation plan under the Endangered Species Act.
Lori's division managed approximately 60,000 acres of watershed lands owned by the City and County of San Francisco (the Peninsula Watershed and Alameda Watershed) as well as over 200 miles of rights-of-way lands containing major water transmission lines from the Hetch Hetchy Reservoir in Yosemite National Park. Lori's conservation efforts include the Peninsula Watershed, a state fish and game refuge with the highest concentration of rare, threatened, and endangered species in the San Francisco Bay area. She developed a new compliance scheme for operation and maintenance activities on the watersheds and rights-of-way lands to ensure compliance with a host of state and federal regulations.
How did Lori make the leap from the Baltimore-Washington D.C. area to San Francisco? During law school she worked at the EPA's Office of Enforcement & Compliance Assurance, took a variety of environmental law courses, and participated in the Environmental Law Clinic. Lori found that these experiences were "instrumental in affirming my decision to pursue a career in the environmental regulatory field and provided me with valuable tools to help me hit the ground running immediately following law school." After graduation, Lori went to work at the EPA's Office of Administrative Law Judges as an attorney adviser for one and a half years. She then moved to private practice at Bracewell & Giuliani in Washington D.C. where she counseled clients on a wide variety of environmental matters for another two and a half years.
While Lori found the University of Maryland School of Law and the Environmental Law Program to be "fantastic" and enjoyed her time here, her choice to move out to San Francisco was the best move she made: "while I appreciated being in the center of the regulatory world in the D.C. area, I wanted to make an impact at the local level and the San Francisco Bay Area offers a lot of opportunities to that end, along with a mild climate and an abundance of cultural offerings and outdoor activities."
Alumni Profile: Kathleen Fallon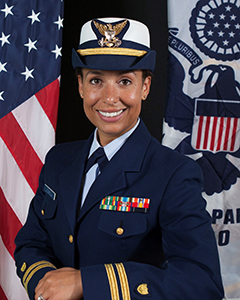 Kathleen Fallon ('15) Kathleen is a Lieutenant in the United States Coast Guard and graduated from the Coast Guard Academy in New London, Connecticut in 2008 with a bachelor of science in government and a commission as an Ensign in the United States Coast Guard. She knew she wanted to be an attorney in the Coast Guard as a cadet but her first four years following graduation were spent serving at sea aboard Coast Guard cutters in New Hampshire and Miami, driving ships, conducting fisheries enforcement, executing search and rescue operations, and interdicting drug and migrant smugglers in the Caribbean. In 2011, Kathleen was accepted into the Coast Guard's funded legal education program, which pays tuition for Coast Guard members to attend civilian law school while remaining on active duty. Kathleen selected Maryland Carey Law after learning about the exceptional offerings of the Environmental Law program.
"Maryland Carey Law was an educational and professional boon. I had the incredible opportunity to work as a writing assistant for Rena Steinzor on her book on industrial accidents and intern with the Environmental Protection Agency in Washington, D.C. under William Piermattei's supervision. The Gender Violence Clinic with Leigh Goodmark was a life changing experience, and together with the Women in the Law seminar with Paula Monopoli, definitively made me a better attorney and military officer." In addition to the faculty and academic offerings, several of her 1L classmates remain her closest friends. Despite divergent career paths, Maryland set all of them on the path to successful, engaging, and fulfilling professional lives.
After graduating from Maryland in 2015, Kathleen was assigned to her current position in the Eighth Coast Guard District Legal Office in New Orleans, Louisiana as a Staff Attorney. The Eighth District covers the 26 states of the Heartland of America, including the Mississippi River and Gulf Coast. She currently serve as the primary attorney to the northern-most sectors in the Upper Mississippi Valley and Ohio Valley regions, where her duties include advising her client commands on military justice matters, law enforcement, environmental response operations, and administrative law and regulatory issues. Additionally, Kathleen leads the mission support practice for the District, where her duties entail managing information law, external affairs, and resource/fiscal law. Due to the District's massive size, geographic diversity, and proximity to maritime industry, Kathleen's practice focuses heavily on government ethics including gifts, political activities, outside and post-government employment, and conflicts of interest under Federal Ethics regulations for the Executive Branch.
Kathleen credits her education in environmental law from Maryland for providing her a foundation for other major practice areas in operational and response law with courses in fisheries law, emergency response law, and administrative law. During Hurricanes Harvey, Irma, and Michael, Kathleen provided legal support to Coast Guard incident commanders on emergency operations, addressing the legal, logistical, and operational challenges posed during natural disaster response and recovery. During regular operations, Kathleen serves as a duty attorney advisor to operational units, where she provides real-time legal support to marine investigators on cases involving vessels and facilities committing violations of the Clean Water Act and Clean Air Act as well as to law enforcement teams interdicting illegal, unreported, and unregulated (IUU) fishing in the Gulf of Mexico. In 2018 alone, U.S. Coast Guard assets interdicted 66 Mexican IUU fishing boats off the coast of South Texas, disrupting millions of dollars in illegally caught red snapper from making it to market.
Alumni Profile: Bethany Henneman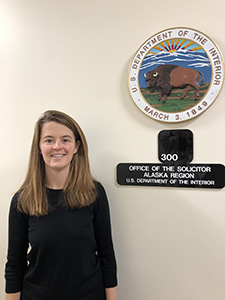 Bethany Henneman ('15) Bethany is an Attorney-Adviser with the Department of the Interior, Office of the Solicitor, in Anchorage, Alaska. Bethany provides legal advice to the Alaska State Office of the Bureau of Land Management on legal matters related to land use planning, land tenure, and various environmental laws and implementing regulations.
BLM Alaska manages more surface and subsurface acres than any other state with BLM-managed lands. This includes approximately 70 million surface acres and 220 million subsurface acres in a state with a landmass equivalent to about one-fifth of the entire contiguous United States.
Why work for Department of the Interior? Two seasons of work in Arches National Park sparked Bethany's interest in federal land management. While studying at the University of Maryland, Bethany drew further inspiration from her Administrative Law and Natural Resources Law courses, her externship with the Maryland Department of Natural Resources, and her internship with the office where she currently works.
After graduation Bethany clerked for the Honorable William M. Nickerson of the United States District Court for the District of Maryland. Following her clerkship she joined the Department of Justice Honors Program as a trial attorney in the Civil Division, Torts Branch, Environmental Tort Litigation Section.
Bethany encourages students to maximize their law school experience by developing relationships with faculty and staff. "The faculty and staff in the Environmental Law Program are dedicated to helping students reach their academic potential, and accessible for guiding students through the maze of choices they make in law school and beyond."
Alumni Profile: Jomar Maldonado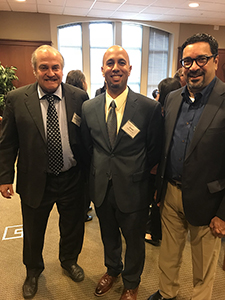 Jomar Maldonado ('03) Jomar's love for nature and the outdoors started at an early age while participating in outdoor programs with the Boy Scouts of America in Puerto Rico. As an Eagle Scout, he learned the value of public service, protecting our natural resources, and preserving our cultural heritage. These values led him to seek a bachelor's in science in environmental science from the University of Puerto Rico, Rio Piedras campus. As he went through his coursework he developed an interest in environmental law, environmental policy, and economics, which led him to pursue a dual degree in law and policy from the University of Maryland.
While attending the Francis King Carey School of Law, Jomar was exposed to incredible opportunities and amazing experiences working on transboundary environmental issues with Professor Percival; Maryland-specific and national environmental issues at the Environmental Law Clinic; international and national environmental law moot court competitions; and legal internships with the U.S. Environmental Protection Agency (USEPA) and the President's Council on Environmental Quality (CEQ). Jomar's experiences with the USEPA and CEQ allowed him to start a prolific career in the area of environmental impact assessments under the National Environmental Policy Act of 1969 (NEPA) and general Federal permitting processes.
After graduation, Jomar worked as an attorney under contract for the Federal Motor Carriers Safety Administration working on a NEPA study that was the subject of the landmark NEPA case Department of Transportation v. Public Citizen, 541 U.S. 752 (2004). Later in his career Jomar moved to the Federal Emergency Management Agency (FEMA) working on environmental review and policies for disaster recovery projects for disaster recovery, including projects as a result of Hurricanes Katrina, Rita, and Irma. After serving as FEMA's Environmental Officer, Jomar moved to the Federal Highway Administration as a senior attorney working on environmental law and infrastructure matters, where he was worked in the implementation of various environmental and permitting provisions of surface transportation laws like the Moving Ahead for Progress in the 21st Century Act of 2012 and the Fixing America's Surface Transportation Act of 2015.
Jomar continues to provide valuable experience to the Federal government and has served in details to CEQ (as Deputy Associate Director for NEPA Oversight) and the Office of General Counsel at the Department of Transportation's Office of the Secretary. He is an adjunct professor of the Francis King Carey School of Law teaching a course on National Environmental Policy Act and Federal Permitting Requirements to students of the MELS program.
Jomar credits his success to the extensive resources and experienced faculty of the Francis King Carey School of Law; most notably his mentors and friends Professor Robert Percival and Dean Jose Bahamonde-Gonzalez.