Meet Katherine Taylor, IPEC's Newest Supervising Attorney
Mon, 10 Jan 2022 12:50:00 EST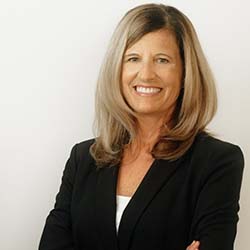 The Intellectual Property and Entrepreneurship Clinic (IPEC) is thrilled to welcome alumna Katherine Taylor '86 as a new adjunct professor. Taylor will be supervising a team of students who assist IPEC clients by providing business law services and counseling. She brings a wealth of knowledge and experience to IPEC, in large part due to the diverse path her career has taken.
Taylor began her legal career at Whiteford, Taylor & Preston after graduating from University of Maryland School of Law. After eight years as a commercial litigator with Whiteford, Taylor & Preston, she became a Senior Assistant County Solicitor for Howard County, where she represented county boards, agencies, and officials. Taylor then founded Taylor Legal, a boutique business and real property law firm that serves clients throughout the Baltimore-Washington area.
In addition to her legal work, Taylor is a Certified Public Accountant and the President of the National Capital Area Chapter of the American Association of Attorney-CPAs. She has been an instructor at the National Business Institute, and she frequently presents on a wide range of business and transaction topics nationally.
Taylor joins clinical law instructors Julie Hopkins and Edward Yee, as well as Director Patricia Campbell, at the IPEC. Campbell recognizes the value Taylor adds to the IPEC faculty, given her specialization in representing startups and new business owners. "We are thrilled to have Katherine join IPEC. For years, our clients have requested help with business matters, in addition to their intellectual property needs. Katherine will be a fantastic resource to clients who are attempting to navigate business concerns, as well as a skilled teacher for our students."
Taylor notes that offering IPEC clients the opportunity to have legal business matters handled by the clinic greatly enhances the ability of IPEC to offer the legal services a business needs to launch a product or service. In addition to offering intellectual property-related work, the clinic can now assist clients with forming entities, drafting contracts, and offering legal counsel from a business perspective. As an ardent supporter of small businesses, Taylor hopes to impress upon students the importance that small businesses play in our local and national economies.
The Intellectual Property and Entrepreneurship Clinic was established in 2018 as an expansion of the law school's long standing Intellectual Property Law Clinic. IPEC participates in the United States Patent and Trademark Office's (USPTO) Law School Clinic Certification Program, which provides clinic students with limited recognition to practice before the office by filing patent and trademark applications on behalf of clinic clients. All participating students must be supervised by an experienced faculty member who has been approved by the USPTO.