New Staff Attorney-Mediator Ati Alipour
Tue, 08 Sep 2020 14:17:00 EDT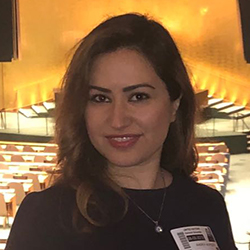 In August, Ati Alipour joined C-DRUM in the new role of Staff Attorney-Mediator. In this position, Ati will work closely with the Mediation Clinic and broadly support Maryland Carey Law's dispute resolution program. 
Ati Alipour is a New York-licensed attorney and mediator with a broad background in dispute resolution. She studied Dispute Resolution at Pepperdine Law in California and has an LLM degree in Intellectual Property from Cardozo School of Law in New York City, where she was the recipient of Jacob Burns Medal for excellence in Mediation Clinic.
Prior to joining C-DRUM, Ati was a mediation and conflict resolution consultant at the Office of the Ombudsman for United Nations Funds and Programmes, providing services to five of the UN organizations, i.e. UNDP, UNICEF, UNFPA, UNOPS and UN-Women. She also has experience as a mediator in Manhattan Civil Court and Brooklyn Housing Court and is a certified mediator with the New York Peace Institute.
Ati describes working in court mediation program as one of the most rewarding experiences during her career as a lawyer. In addition to mediation, Ati has extensive experience both in litigation and as a transactional attorney in different areas including international business law and intellectual property law.
Ati is very keen on dispute resolution system design and conflict prevention. The staff attorney-mediator position presents, "an exciting opportunity to gain experience in academia. I can combine my previous work as a practitioner to contribute to mediation theories and student learning," reflected Ati.
Ati takes a holistic view to resolving conflict, which will lead to better assisting parties with exploring their options when facing a dispute. A native of Iran, Ati handled variety of cross-border agreements in the Middle East. "She thinks as someone who has studied, lived and worked in different places," describes Toby Guerin, Associate Director, C-DRUM, "We look forward to her contribution toward cross-cultural dialogue and broadening our team at C-DRUM."