Reflections from a Ronna K. Jablow Mediation Fellow
Fri, 04 Sep 2020 16:16:00 EDT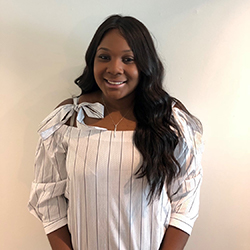 During the Summer of 2020, I had the privilege of serving as the Ronna K. Jablow Mediation Fellow and the opportunity to work with incredible staff at Community Mediation Maryland (CMM). The mission of CMM is to advance collaborative conflict resolution in Maryland through educating the public, providing training and quality assurance, conducting research, and creatively applying mediation to social challenges. During my time, I saw first-hand the team's passion and dedication to the same meaningful work that drew Ronna Jablow to the mediation profession. CMM collaborates with Maryland residents, churches, schools, prisons, police departments, and most recently community libraries to provide comprehensive mediation services to groups, individuals, and spaces that may be overlooked in the area of mediation.
This summer I worked on a variety of projects. Despite the challenges of dealing with the coronavirus pandemic and social injustices and unrest that ignited during the summer, my time spent with CMM was impactful and meaningful to Baltimore and surrounding counties in unexpected ways. Mediation is typically an in-person experience; however, during my time with CMM a shift to online mediation options was necessary. As a result, I was given the assignment of updating the "Inclusive Model On-Line Mediation" and "Parenting Plan On-line Mediation" mediator guides. The guides provide a step-by-step instruction of the mediation process in an online format for mediators to follow. Since most mediators are accustomed to in-person sessions, instructions on how to use software and how to virtually interact with parties amongst other tips were highlighted to ensure effective and successful sessions. These guides allowed community mediation centers to continue to provide valuable mediation services during the lockdown and beyond.
Additionally, in my role as a Fellow I assisted with the composition of an educational activity packet that was distributed to schools and libraries in several counties before the conclusion of the school year. These packets entitled "Using Conflict to Help Your Family Grow Together", outlined the importance of effective communication and techniques on bonding as a family during difficult times. With families being confined to closer spaces, the helpful communication tips, journaling pages, conflict management techniques, and emotional awareness activities within the packets were excellent resources for families.
This summer I also facilitated Facebook mediator training sessions and managed social media platforms to further engage the community with CMM and their affiliate mediation centers. CMM recently took over the Prince George's County community mediation center and establishing a social media presence served as an important way to reach the community.
As a result of this work, I gained a different perspective on how certain individuals and families perceive the communication process and how it affects their daily interactions, especially under uncertain, stressful circumstances. Coming into my role as a Jablow Fellow, I was unaware of the existence and importance of these resources. During my fellowship, CMM and the Prince George's County Library partnered on a three-course interactive conflict resolution series to Prince George's County residents, youth and adults set to begin in October 2020. It was a great feeling to know that my work this summer will impact people much later in the year. I intend to stay in contact with the CMM team and be of assistance when the courses launch in the fall.
This Fellowship was truly a rewarding experience. I have no doubt the relationships I have formed with CMM will continue far into the future. The resiliency and adaptability displayed by everyone working through the uncertainty of COVID-19 and sensitivity of the social climate was truly inspiring and something I will carry into my career. Although my time at Community Mediation Maryland has concluded, I know the work I did over the summer will continue to be seen throughout many Maryland communities.
Kayla Johnson served as the 2020 Ronna K. Jablow Mediation Fellow. She is a third-year law student at Maryland Carey Law and serves on the executive board of Maryland Carey Law's ADR Team.