ADR Team Competition 2019-2020 Round-up
Fri, 04 Sep 2020 16:08:00 EDT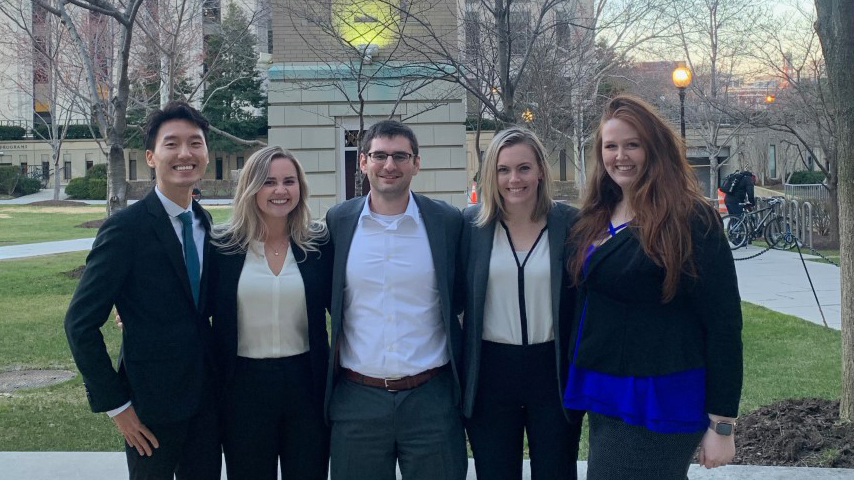 The Maryland Carey Law Alternative Dispute Resolution (ADR) Team had a successful 2019-2020 season. Despite the shortened Spring semester, Maryland Carey Law competed in five competitions including: FINRA Securities Dispute Resolution Triathlon, ABA Law Student Division Negotiation Regional Competition, Tulane Professional Football Competition, ABA Representation in Mediation Regional Competition, and INADR Law School Mediation Tournament.
During the Fall 2019 semester, second-year students Garett Unger, Celena Dyal, and Samantha Chan competed at FINRA's Annual Securities Dispute Resolution Triathlon, which tested their negotiation, mediation, and arbitration skills. Monica Kulkarni and Austin LaRoche, also second-year students, represented Maryland Carey Law at the ABA Law Student Division Regional Negotiation Competition in Washington, D.C. Coached by Professor Barry Gogel, Monica and Austin had a strong showing against one of the competition's final round winners, finishing just three points shy of a final round spot.
In the Spring, Matthew Morris '20, Jake Lichtenbaum '20 and Mark Metrey '21 competed at the Tulane Professional Football Negotiation Competition. The team submitted a brief prior to the competition and then competed in three negotiation rounds. The brief and negotiations centered on NFL free agents and their respective teams. Professor Gogel, an experienced sports law attorney, coached the team.
The ADR Team also represented the law school at the ABA Representation in Mediation Regional Competition in Washington, D.C. The mediation competition simulated two mediations involving personal injury and employment discrimination claims. The team of Caroline Scanlon '21 and Megan Hill '21 placed third and the team of Thérian (Jung Yong) Lee '21 and Kathryn Martin '21 finished in fourth place. Michael Goldberg '14, a former ADR Team member and previous representation in mediation national finalist, coached the mediation teams.
Rounding out the year of competitions, Shannon Elias '20, LeBrit Nickerson '21, and Kayla Johnson '21 participated at the International ADR Law School Mediation Tournament hosted at Loyola University School of Law in Chicago, Illinois. ADR Team advisor, Professor Toby Guerin, coached the team, with assistance from former ADR Team members Jaclyn Fonteyne '19 and Rebecca Lineberry '19.
Graduating Class Highlights
Outgoing Vice President of the ADR Team, Matthew Morris, is applying for admission to the Tennessee Bar. Since moving to Nashville, Matthew started working for a firm and hopes to stay on full-time after the bar exam. Matthew primarily handles business defense work but engages in other civil matters. Thanks to the expansion of practice-under-supervision rules, he has already used some of the ADR skills he learned through the team and looks forward to building a practice in Tennessee. 
Outgoing Membership Chair, Hunter Haines, will work as an associate in the Finance and Capital Markets, Mergers and Acquisitions, Investment Funds, and Start-ups & Emerging Growth Companies at Shulman Rogers' Washington, D.C. office.
Alba Sanchez Fabelo will join the Capital Area Immigrants' Rights Coalition team as a staff attorney, working in the Detained Unaccompanied Children's Unit. In this role, she will represent kids who came to the United States alone, lost their parents on the way, or were separated from family in a detention facility.
Elizabeth (Beth) McKie will serve as an associate the Asset Management practice at Ropes & Gray's Washington, D.C. office and Trevor Hoffberger will join Venable LLP as an associate in the Baltimore office.
ADR Tryouts 2020-2021
For the first time in ADR Team history, tryouts for the two-year course and competition team were held virtually from March 26-29, 2020. Over seventy first-year day and second-year evening students participated in the remote tryouts. The ADR Team is excited to welcome sixteen new members. A special thank you to effort of Thérian Lee, Membership Chair, for his organization and facilitation of the remote tryouts.
Thank You
The ADR Team would like to congratulate Professor Jay Knight on his new role, Director of the Alternative Dispute Resolution Division at the Maryland Court of Special Appeals. This new responsibility will require Professor Knight to discontinue his role as adjunct professor for the ADR Team Spring Seminar. ADR Team thanks Professor Knight for his years of mentorship, humor, and investment in the development and success of the ADR Team. He will be sincerely missed by his students.