Welcome Professor Maneka Sinha
Tue, 23 Jul 2019 15:45:00 EDT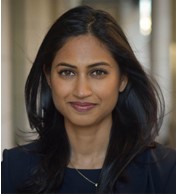 We are thrilled to welcome Maneka Sinha as our newest professor of law in the Clinical Law Program. Prof. Sinha joins us from the Public Defender Service for the District of Columbia, where she served as a supervising attorney and, most recently, as special counsel to the director of forensic science. At PDS, she tried over 25 cases for juvenile and adult clients charged with felonies, including homicide and sexual assault, and supervised attorneys and law students in all aspects of criminal defense practice. She has earned a national reputation for her forensic science expertise and has presented nationally on forensic science issues at the National Association of Criminal Defense Lawyers-Cardozo Law National Forensic College and the Deborah T. Creek Criminal Practice Institute, among other venues. Prof. Sinha has served as a fellow for the International Legal Foundation in both Nepal and the West Bank, where she supervised and trained lawyers in defense advocacy and the foundations of criminal defense practice. She holds her J.D. from the New York University School of Law, where she was a recipient of the Vanderbilt Medal for outstanding contributions to the law school and the Dean's Scholarship, and her B.S. from the University of California, Berkeley.
Prof. Sinha will be leading students in the Criminal Defense Clinic, where they will represent clients charged with misdemeanor crimes in Baltimore. Clinic co-director Prof. Michael Pinard looks forward to the role the Criminal Defense Clinic will play in providing top-notch legal representation to clients at critical and consequential moments in their lives. According to Pinard, "the unfortunate reality is that the criminal legal system plays an outsized role in many Baltimore neighborhoods. The Criminal Defense Clinic will provide our students with rich experiences learning about these issues and representing clients from Baltimore whose liberty interests are at stake." Students will represent their clients through every phase of a criminal case and will develop a comprehensive skill-set, including client interviewing and relationship building; fact investigation; discovery practice; defense theory development; plea negotiations; criminal motions practice; and trial and sentencing advocacy.
Why the change from the direct client services that she feels so passionately about? As Prof. Sinha explains, "[a]s a public defender, I could pick up a new client every day and did the best job that I could do, but at a certain point it felt like my clients were just trapped in a broken system. It became clear to me that building momentum toward justice, for me, meant using my love of teaching and mentorship to foster change."
We are delighted to have Prof. Sinha on our faculty and look forward to the impact she will make here and in the greater community.