Conferences & Symposia
Basic Restorative Practices Training: 2 Day Event
October 28-29, 2014
The Center for Dispute Resolution at Maryland Carey Law
proudly presents the
Restorative Practices Workshop
October 28-29, 2014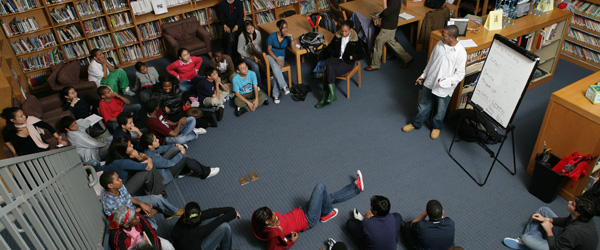 A 2-day workshop designed for Maryland Public School counselors, social workers, teachers, administrators, or student support staff interested in implementing restorative practices in their elementary, middle, or high school in 2014-2015.
Training Description:
The goal of this two day course is to provide an introduction to restorative practices in school communities. On Day 1, Introduction to Restorative Practices helps participants thoroughly understand restorative concepts and learn effective strategies for managing behavior and teaching young people to take responsibility for their actions. On Day 2, Using Circles Effectively, attendees will learn how to optimally utilize circles in any setting, whether for community-building, problem-solving, addressing disciplinary incidents, teaching content, or strengthening educator communities. The trainings are IIRP-developed and presented by experienced C-DRUM staff members who are licensed IIRP presenters.
Dates:
Tuesday, October 28, 2014 | 9:00 a.m. – 4:00 p.m.
Wednesday, October 29, 2014 | 9:00 a.m. – 4:00 p.m.
Lunch will be provided on both days.
Location:
The Judiciary Education and Conference Center in Annapolis
Cost:
$130 per person for entire training

Credits:
Contact Hours available for counselors
---

Each attendee will receive two handbooks: Introduction to Restorative Practices and Using Circles Effectively. Please note attendance for the entire training is mandatory.
If attending the entire training is problematic, please consider sending somebody who can.
Registration is on a first come, first served basis.
Questions?
Feel free to contact Barbara Grochal, Director of School Conflict Resolution Education Programs, with any questions about the logistics or content of the training program at bgrochal@law.umaryland.edu or 410-706-3143.