Conferences & Symposia
Independence of the Judiciary in Latin America
Monday, March 3 2014

The University of Maryland Francis King Carey School of Law
proudly presents
Independence of the Judiciary
in Latin America
featuring
Judge Ricardo Li Rosi
Judge on the National Civil Court of Appeals in Buenos Aires, Argentina

DUE TO WEATHER, THIS EVENT HAS BEEN CANCELED.
Join UM Carey Law for a presentation from law school visitor Judge Ricardo Li Rosi, who will discuss the judiciary and constitutional system in Latin America. A short question and answer session will follow.
Free and open to the public | Registration is required | Light reception to follow
---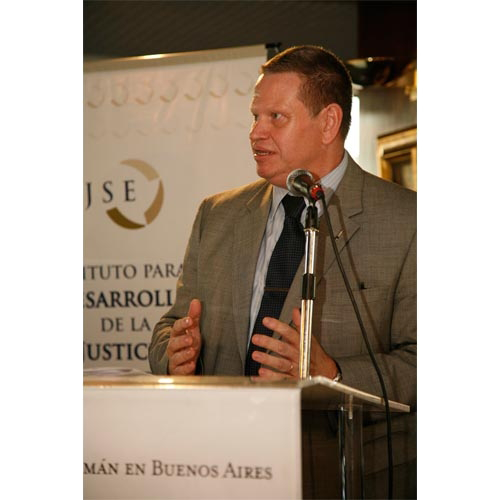 Judge Ricardo Li Rosi was appointed to the National Civil Court of Appeals in Buenos Aires in 2006 after serving as National District Judge of Argentina since 1989.
His other positions, affiliations, and awards include:

- General Director of the Exchange and Studies Judicial Academy, based in Buenos Aires;
- Member of the Academic Council of the Judicial School at the Judicial Council;
- Argentine delegate to the World Justice Foundation of the International Association of Judges;
- Argentine delegate to the Special Group in charge of the Recommendations of the Meetings of the Ministers of Justice or General Attorneys of the Americas (Organization of American States - OAS);
- Member of the Reform Commission of Civil and Commercial Code of the Nation (1997-1999) where he was responsible for project developments of specific reforms (such as Resolution MJ Nbr. 88 dated Aug 7, 1997), and of comprehensive reform;
- Member of the Board of Directors of the Higher Judicial Institute, dependent of the Association of Magistrates and Officers of the National Justice; and
- Member of the Constitutional Policy Institute of the National Academy of Moral and Political Sciences.
Li Rosi has participated in judicial training programs in 19 provinces of Argentina and 16 countries.
Judge Li Rosi was a recipient of the Gusi Peace Prize 2012 by the Gusi Peace Foundation, Philipines and the City Key of Lucknow, India, in the World Conference of Chief Justices of the World, in December 2012.